It's too late to purchase a Full Season CSA Share this year, but we still have Summer CSA Shares available! The Summer CSA is the same type of scenario, except that the farm share lasts for 10 weeks rather than 20 weeks. The cost of the share is $350 and includes enough organic produce for a typical family of 3-4 people each week. The share also includes fresh herbs and cut flowers, as well as the embroidered cotton tote pictured below. Please let us know if you are interested, and thanks for looking!
CSA Information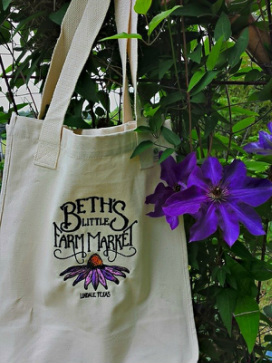 Beth's Little Farm Market is thrilled to announce our new venture: Community Supported Agriculture!
Community Supported Agriculture (or CSA, for short) is a type of relationship that gives consumers the opportunity to purchase a seasonal subscription to a farm in return for a weekly assortment of produce throughout the growing season. This allows us to have our crops sold before we harvest them and provides you with the freshest local produce for months on end. More importantly, it strengthens our farm's relationship with the community. There are over 4,000 CSA programs in the country and we believe it is time for Lindale to have one of its own!
We are offering 12 subscriptions in a "market-style" CSA program for the 2014 growing season. Subscribers will receive a custom printed tote that they can bring with them each week to our farm stand and fill with their choice of seasonal vegetables, fruits, herbs, and flowers. That way, CSA subscribers get to take home more of the veggies that they really enjoy and leave the items that they don't tend to eat. Of course, certain items such as fresh berries and asparagus may have a weekly limit to ensure that everyone has a chance to take some home. Though we rely on help from Mother Nature for the success of any particular crop, we plan on offering a wide assortment of items including: berries, basil, tomatoes, sweet and hot peppers, cilantro, lettuce, squash, onions, peas, garlic, beets, chard, kale, green beans, ground cherries, melons, eggplant, sweetcorn and popcorn, okra, pumpkins, and more.
A subscription will provide enough produce for a small family (3-4 people) to enjoy on a weekly basis. The CSA subscription will run for 20 weeks, approximately mid-April to mid-September, and will cost $600. We are not offering half shares this season, but we encourage smaller households to pair up on a subscription if they are worried about the amount of produce. Subscriptions are available on a first-come first-serve basis, so please don't hesitate to let us know if you would like to participate, either by clicking on the Contact tab at the top of this page or sending us a Facebook message.
If you would like to secure your space as a CSA member, you can send a check for $600 to:
Beth Walker
PO Box 1627
Lindale, TX 75771
To learn more about CSA programs, please visit
www.localharvest.org/csa
or email your questions to
info@bethslittlefarmmarket.com
.
---