About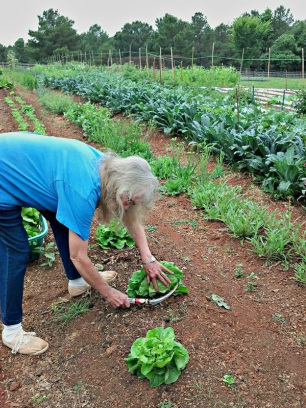 Here at our small farm, we use sustainable and regenerative techniques to grow a diversity of crops in harmony with nature. We rely on fish emulsion, horse and cattle manure, as well as our own farm-made compost to fertilize our plants. When rainfall is not adequate, we supplement the fields with harvested rainwater or well water using water-efficient "drip-tape". We harvest our own seed and also
trade or purchase seed from Seed Savers Exchange and other organic seed companies. All of the produce that we offer is grown, harvested, and processed right here on the farm.

We are so pleased to announce the arrival of Dr. Tyler Cullender here at Beth's Little Farm Market. Tyler recently earned his PhD in microbiology from Cornell University, where he researched the relationship between health and beneficial bacteria in the human gut. His studies spurred on an interest in promoting health through diet and led him to pursue sustainable farming. Before starting work at Beth's Little Farm Market, Tyler gained experience through a seven month internship at Mountain Dell Farm in New York. During his internship, Tyler learned practical skills in farm management and growing organically.

We are starting our first CSA program this spring and are increasing our growing area by an additional quarter acre. Terry & I have extensive backgrounds in growing and preparing produce in Texas, but it is a lifelong learning process full of ever-changing variables. Farming is truly a 'leap of faith' while trusting that Sweet Mother Earth will enjoy our ministrations! The soil here in East Texas is conducive to so many wonderful plants. Most garden veggies and herbs prefer a neutral to acidic soil pH, which we have. The exceptions are okra, tomatoes, and stone fruit trees (to list a few), which prefer a more alkaline pH. To these plants we add wood ash, which naturally increases pH. My motto is very similar to that of Blue Bell Ice Cream: "We eat all we can and then sell the rest". My father was a certified Master Gardener who also taught other Master Gardeners and performed seed/plant testing for several organizations. He taught alongside Neil Sperry and Howard Garrett all over the state of Texas. He instilled in me a love for gardening at a very young age. I only wish he could see Beth's Little Farm Market, he's been gone several years now.

It is incredibly fulfilling to nurture a seed into a mature plant that can be harvested and eaten fresh or preserved in order to feed our family throughout the year. We are thrilled to be able to share our bounty with you through Beth's Little Farm Market!
---