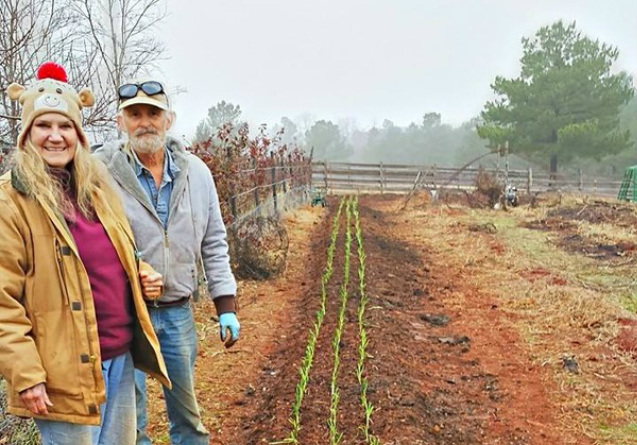 This is my first blog and I am excited to try something new. By way of introduction, I am Beth Walker. I'm married to my very talented retired dentist husband, Terry Walker. We both have loved growing things all our lives. I studied horticulture in the 1970s in Dallas at Richland College and in Commerce at East Texas University (Now A&M). My father was most influential with my learning the love of all things growing.

I was instrumental in getting the Organic Co-Op in McKinney, Texas off the ground in the early 1970s. It's wonderful to come full circle and live and garden here in East Texas. Terry & I have always had a vegetable plot somewhere. I even dug up my zero lot line back yard in North Dallas to grow veggies. Now we have 50 acres of East Texas soil, timber and pasture. The gardens and orchards grow in area a little bit each year. We've been cultivating and enjoying "Heartland Farm" for over 12 years now and expanded into growing enough produce to share and spare. We started Beth's Little Farm Market last spring and are learning so much about varieties and preferences for this beautiful East Texas area. Farming is a lifelong learning process full of trial, error, and sweet success.

We expanded into the pasture last year and are cutting into it again by the same amount, giving us an additional 1/3 acre of prime growing space. Terry has a wonderful antique Ditch Witch he uses to trench down about 24", fill with manure & compost, then lay drip tape and cover for raised rows. Expanding the garden space again this year will enable our farm market to offer a bigger variety of produce & fruits. This season, we will also offer herbs and flowers at the market. It has been my dream since I was a very little girl to grow & share flowers. My mother used to let my sister (13 months older) and me pick flowers & tie them up with ribbon. On May Day every year, we were allowed to go to our neighbors' houses, lay the small bouquets on the porch, and knock on the door before running around the corner to hide. We would then watch to see the joy on the neighbors face as they discovered the flowers.

The best thing about growing the produce, fruit and flowers is sharing with my friends and family. A friend last year told me "There is something special about eating food that has been grown by someone I love". I believe sharing something as very personal as food gives us a lift that cannot be explained with words. When I am choosing seeds or plants during the planning process, I think to myself "Oh Rachel's little guy will love this……" or what other friends might prefer to eat. We had so many folks enjoy the 'Orangeglo' watermelons last season that we are increasing production of them this season. I have a funny story (was not funny at the time, though) about the watermelons. Late in the season, around August, our young Angus bull, Beauregard, decided that he was immune to the electric fence surrounding the melon patch. At night, he would 'bull doze' his way through the three strands of electric fence and just chow down on the watermelons! We also had a family of raccoons join in the fun with the 'Bodacious' honeydew melons. The dry conditions did not help with the grounding of the electric wires, either. We calculated that Beauregard finished off over 45 orange watermelons. One evening, he talked one of the young heifers into joining him. Can you believe the nerve? Have no fear, the Orangeglo are heirloom seeds and we save them and share them and we are preparing a new melon field as I type. The new field is fenced with cattle panels and electric fence outside of that. Beauregard will just have to be content with his alfalfa and coastal.

Favorite vegetable: Sweet corn!