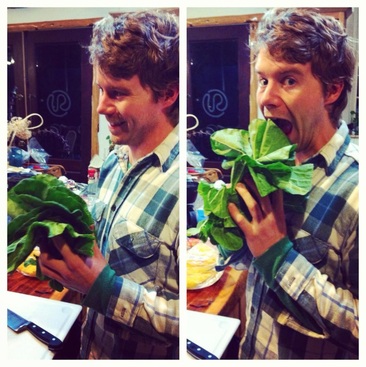 In 2009, the USDA launched an initiative to strengthen relationships between farmers and consumers. The initiative is called Know your Farmer, Know your Food. This motto reflects the increasing desire among farmers and consumers to return to a food system that emphasizes health, flavor, sustainability, and honesty within local communities. In the spirit of Know your Farmer, Know your Food, I thought that I would use the first blog post here at Beth's Little Farm Market to tell you a little bit about myself.

Before I became a farmer, I was a graduate student at Cornell University in the Microbiology Department. My research revolved around the communities of beneficial bacteria in our intestines and how these bacteria help in preventing inflammation and promoting a healthy metabolism. Though I enjoyed the science, I found that I was happiest when I was working in my garden. I craved a life that kept me connected to the soil, the sun, and my local community. When my Aunt Beth (yes, THE Beth), Uncle Terry, and Cousin Lane came to Pennsylvania so that we could all go to the Mother Earth News Fair, I popped the big question: "Can I farm with you?". Thankfully, they said yes!

So, after completing my doctorate degree, I began my journey as a professional farmer. Before moving back to Texas, I completed an internship at Mountain Dell Farm in New York. While at Mountain Dell Farm, I learned how to sustainably grow over 50 varieties of vegetables in the beautiful Catskill Mountains. The internship gave me indispensable experience in organic farming techniques as well as organizing restaurant deliveries and a Community Supported Agriculture (CSA) program. I brought this knowledge with me when I moved back to Texas and joined Beth's Little Farm Market last November. Together with Beth, Terry, and Lane, we are hard at work to insure that we have an excellent selection of vegetables, fruits, flowers, and herbs when we open our Farm Market this April. I am excited to be a new member of the Lindale community and I cannot wait to meet all of you at the market!

Favorite vegetable: Beets!